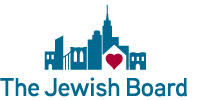 The Jewish Board
ABOUT THIS OPPORTUNITY
The Jewish Board is a nonprofit social service provider with a large network of mental health, housing, and other programs throughout the New York City area. Their clients are of every religion, culture, race, sexual identity, gender identity, and cognitive ability. They help their clients with a variety of problems, including mood, anxiety, and trauma related issues; substance use disorders; neurodevelopmental concerns; medical problems; stable housing; and overall care management.
Since the start of the Covid-19 emergency, The Jewish Board has provided care through Zoom video calls. Volunteers are needed to help provide Zoom-based appointments for clients, many of whom have struggled to use Zoom due to various issues, including unfamiliarity with Zoom and tech in general, problems and frustration with setting up initial Zoom calls, and limited time during sessions.
We are looking for volunteers to support The Jewish Board medical team who:
Are motivated to help their clients learn how to use Zoom to receive mental health care.
Can commit to three hours weekly, at a minimum, for the next 6-12 months (holidays off if necessary) with the possibility of extending beyond 12 months.
Are available at least once every two weeks on Monday, Thursday, or Friday between 9:00 am and 5:00 pm to check in with the staff liaison for 15-30 mins.
Can communicate regularly (at least once a week) with agency staff via email.
Are comfortable with using Zoom.
Are compassionate and understanding of those who are not tech-savvy.
If you are interested, please click "sign up."