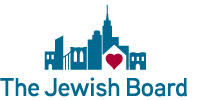 The Jewish Board
ABOUT THIS OPPORTUNITY
The Jewish Board of Family and Children's Services strengthens families and communities throughout New York City by helping individuals of all backgrounds realize their potential and live as independently as possible.
Social distancing doesn't mean clients need to be bored, or lonely. Virtual activities can be fun, wildly creative, and serve as a crucial substitute for in-person connections. The Jewish Board is open to your creative ideas, such as:
Creating a "project in a box" (art, cooking, or other activity)
Sending a video message of love and support to our clients
Filming a video lesson on your phone – cooking, crafting, or anything else you want to share!
Leading (in real time) an activity via Zoom: exercise, music, or more!
Hosting a (virtual) scavenger hunt, contest, karaoke competition, or other fun game.
For volunteer activities, email us at connect@jbfcs.org to get matched with a program or to talk about other ways you can help.