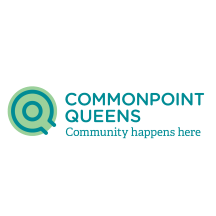 Commonpoint Queens
ABOUT THIS OPPORTUNITY
Commonpoint Queens will be hosting the Commonpoint Closet, a free clothing boutique to be held at the Bay Terrace Shopping Center this June. The Commonpoint Closet will empower young men and women on their road to economic independence through professional attire to help them enter and thrive in the workforce.
To help fill the Commonpoint Queens Closet store, you can donate gently worn, clean clothing (both men and women's attire).
The following location will be available during a select date and time:
• Wednesday, May 26 from 11:30am – 1pm at Christopher Morely Park

Additional locations through May 28th during business hours include:
Commonpoint Queens Sam Field Center
58-20 Little Neck Parkway
Little Neck, NY 11362
Commonpoint Queens Central Queens
67-09 108th Street
Forest Hills, NY 11375
Commonpoint Queens Bay Terrace Center
212-00 23rd Avenue
Bayside, NY 11360
Commonpoint Queens The Hub
77-17 Queens Boulevard
Elmhurst, NY 11373
For more information, please contact Judy Vladimir at jvladimir@commonpointqueens.org or 718-225-6750 ext. 345.
To learn more, press the sign up button.